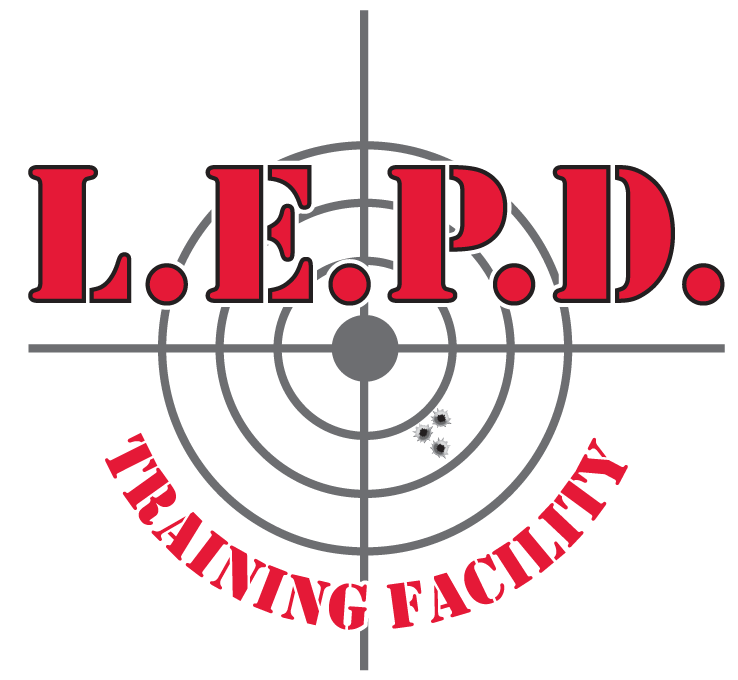 $89.00 Per person per class (No refunds unless cancellation is 72hrs prior to day of class)

Age: 21yrs & older
Duration: 3hrs downrange
Date: See class schedule
Includes:
Range Fees
Target
Eye & Ear protection
6 student limit per class
Overview
Are you serious about protecting yourself and your family in dangerous times? Do you recognize that 8hrs in a CCW class does not fully prepare you to safely and effectively carry and utilize a handgun in self-defense? The L.E.P.D. Training Facility Practical Defensive Handgun Series is an exceptional way to improve your skills and make yourself better prepared in a time of need. Over the course of this three part series you will learn the practical skills needed to survive a real-life shooting scenario. Take one class or sign up for them all; these will change the way you think about carrying a firearm! Each 3hr course focuses on a specific track below:
Track 1

Trigger management
Tactical reloads
Drawing from the holster or concealment
Off-hand proficiency (one handed shooting)
**This course requires a minimum score of 80% proficiency to be eligible for Track 2**
Track 2 (Must have successfully completed Track 1 & achieved a passing score prior to registering for this class)

Recognizing barricades, cover and concealment
Shooting while moving
Unconventional shooting positions
Track 3 (Must have successfully completed Track 1 & 2 prior to registering for this class)

Point-shooting (Contact Distance Engagements)
Low light shooting
Stoppages & immediate actions
Requirements
Reliable semi-automatic handgun & 150-200 rounds of ammunition (Ammunition available for purchase at L.E.P.D.)
A solid, reliable holster, belt & mag-pouch is needed. No soft-sided/non-molded holsters will be allowed due to the inherent danger of re-holstering with these products Click Here for More Information!
Students must complete L.E.P.D. Training Facility's Firearms 101 or Ohio CCW or be per-approved to take Track 1. Pre-approval may require an evaluation or verification of outside class completion to insure proper skill set prior to taking class.    Due to the nature of this class, students must successfully complete Track 1 prior to registering for Track 2
Eye and ear protection (Provided at no charge if needed)
Photo ID (driver license, state-issued ID, or passport)
Must be at least 21 years of age
Not under indictment or been convicted of a felony in the U.S. or elsewhere
Not convicted of misdemeanor domestic violence
Not under court order (i.e. order of protection, harassment, etc.)
Not a fugitive from justice
Not a user of or addicted to any controlled substance
Not been dishonorably discharged from the Armed Forces
Have never renounced U.S. citizenship
Do not suffer from mental illness and have not been adjudicated mentally incompetent or committed to a mental institution
Call (614) 999-1009 To Register Today!